This feature requires you to be logged on autoviva
You can
login to your account
or
create a new account
.
This feature requires you to be logged on autoviva
You can
login to your account
or
create a new account
.
© photo by anderoo, licence: Attribution Share Alike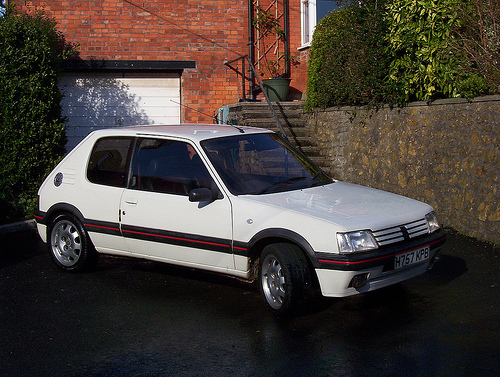 basic info

US
Engine
Straight 4
Type
Saloon (sedan)
Displacement
96 cu in
Doors
3
Maximum torque
99 ft.lb @ 4000 rpm
Seats
4/5
Wheel Drive
Front wheel drive
Luggage Space
--
Transmission
5, Manual
Fuel
Petrol
Power-to-weight
125.88 hp/ton
Kerb weight
1874 lb


acceleration 0-100 km/h
--

about this car
Peugeot developed a performance version of its conventional 205 model, the GTI, which came out in 1984. The earliest GTIs were available only with a 1.6-liter petrol engine, but a new alternative was given in 1986 when Peugeot added a 1.9-liter unit to the GTI's engine options available.

Although the 205 GTI never reached the North American car market, its European popularity was so great that it eventually grew to be one of the most admired hot hatches of the 1980's.
This GTI, however, is often considered to have a tricky handling that is most indicated for experienced and confident drivers.
Peugeot stopped producing and selling the 205 GTI in 1994 (although the standard form of the 205 remained until 1998) with nearly 333 thousand units built.
more